EFEKTIVITAS REBUSAN DAUN SALAM TERHADAP PENURUNAN TEKANAN DARAH PADA PASIEN HIPERTENSI
Keywords:
Daun salam; Hipertensi
Abstract
Background: Hypertension is systolic pressure more than 140 mmHg and diastolic pressure more than 90 mmHg (for age less than 60 years). The prevalence of hypertension sufferers in Wonogiri reached 49.48%. In Indonesia, 31.7% suffer from hypertension. The use of pharmacological therapy using chemical drugs in the long term causes side effects for people with hypertension, so they choose non-pharmacological therapies such as bay leaves. Bay leaf (Syzygium polyanthum) is a type of green leaf, pointed in shape, and belongs to a group of plants commonly used for traditional cuisine in Indonesia. Bay leaves have several benefits, including being able to add to the aroma of cooking, for traditional medicine in patients with hypertension, namely by drinking boiled water of bay leaves. Methods: This research belongs to the type of case study research. The population in this study were all residents of Kepatihan Village, Selogiri District, Wonogiri Regency who suffered from hypertension. The sample in the study was 3 respondents. The instrument used a Tensimeter, Stethoscope, observation sheet, and sheet. SOUP. Results: The results of observations made from all respondents found that after giving boiled bay leaves for 2x24 hours, the results of blood pressure in respondents decreased. Conclusion: The results of the analysis carried out from all respondents obtained data that giving bay leaf decoction is effective in helping to reduce blood pressure in patients with hypertension.
Latar belakang: Hipertensi adalah tekanan sistolik lebih dari 140 mmHg dan tekanan diastolik lebih dari 90 mmHg (untuk usia kurang dari 60 tahun). Prevalensi penderita hipertensi di Wonogiri mencapai 49,48%. Di Indonesia sebesar 31,7% menderita hipertensi. Penggunaan terapi farmakologi menggunakan obat kimia dalam jangka waktu yang lama menimbulkan efek samping bagi penderita hipertensi, sehingga memilih terapi non farmakologi seperti daun salam. Daun salam (syzygium polyanthum ) adalah jenis daun berwarna hijau, berbentuk lancip, dan termasuk dalam kelompok tanaman yang biasa digunakan untuk masakan tradisional di Indonesia. Daun salam mempunyai beberapa manfaat antara lain adalah mampu menambah aroma masakan, untuk obat tradisional pada penderita hipertensi yaitu dengan meminum air rebusan daun salam. Metode:Penelitian ini termasuk jenis penelitian case study research ( studi kasus. Populasi dalam penelitian ini adalah semua penduduk Desa Kepatihan Kecamatan Selogiri, Kabupaten Wonogiri yang menderita Hipertensi. Sampel pada penelitian sebanyak 3 responden. Instrumen menggunakan Tensimeter, Stetoskop, lembar observasi, dan lembar SOP. Hasil: Hasil pengamatan yang dilakukan dari keseluruhan responden didapatkan bahwa sesudah dilakukan pemberian rebusan daun salam selama 2x24 jam, hasil tekanan darah pada responden mengalami penurunan.
Kesimpulan: Hasil analisa yang dilakukanan dari keseluruhan responden didapatkan data bahwa pemberian rebusan daun salam efektif untuk membantu penuruan tekanan darah pada penderita hipertensi.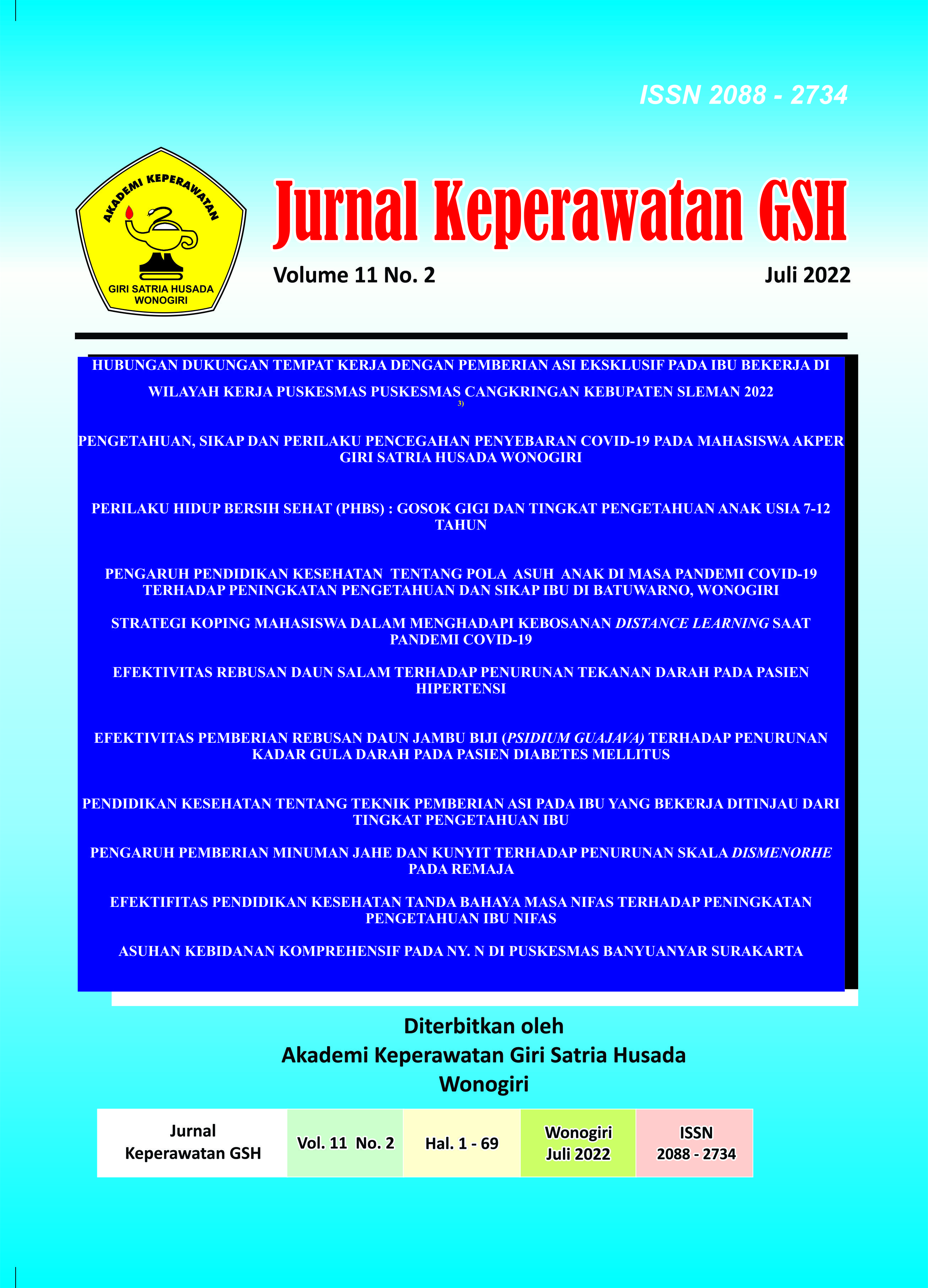 Downloads