EFEKTIVITAS KOMPRES HANGAT JAHE MERAH DAN SERAI TERHADAP NYERI RHEUMATOID ARTHRITIS PADA LANSIA DI DESA BALEPANJANG
Keywords:
Rheumatoid Arthritis, Red Ginger and Lemongrass Compress, Elderly., Arthritis Rheumatoid, Kompres Jahe Merah dan Serai, Lansia.
Abstract
ABSTRACT
Background : Rheumathoid Arthritis is a chronic systemic inflammatory disease that attacks several parts of the joint, the synovium, which occurs in an inflammatory process that results in damage to the joints. The increase in the number of elderly means an increase in health problems among chronic conditions is joint disease.
Objective : To find out the application of warm compresses to reduce rheumatoid arthritis pain in Nguwur Hamlet, Balepanjang, Baturetno.Method: Descriptive case study which is a type of strategy in qualitative research, with a case study research approach (case study). The population in this study were the elderly who suffer from rheumatoid arthritis. The sample is 30 respondents. The instrument uses observation sheets and Standard Operating Procedures (SOP).
Results : The results of the research that had been carried out from all respondents showed that after compressing ginger 2 times a day there was a decrease in pain intensity. This can be seen from the respondent's observation sheet.
Conclusion : The results of this study show the effect of warm red ginger and lemongrass compresses on reducing joint pain in the elderly. 
ABSTRAK
Latar Belakang : Rheumathoid Arthritis merupakan penyakit inflamasi sistemik kronis yang menyerang pada  beberapa  bagian sendi, sinovium, yang terjadi pada proses peradangan yang mengakibatkan kerusakan pada tulang sendi. Meningkatnya jumlah lansia berarti bertambahnya masalah kesehatan diantarayan kondisi kronik adalah penyakit sendi.
Tujuan : Untuk mengetahui pemberian kompres hangat terhadap penurunan  nyeri  rheumathoid arthritis di Dusun Nguwur, Balepanjang, Baturetno.
Metode : Studi kasus deskriptif yang merupakan salah satu jenis strategi dalam penelitian kualitatif, dengan pendekatan case study research (studi kasus). Populasi dalam penelitian ini adalah lansia yang menderita rheumathoid arthritis. Sampel sebanyak 30 responden. Instrumen menggunakan lembar observasi dan Standar Operasional Prosedur (SOP).
Hasil : Hasil penelitian yang telah dilakukan dari keseluruhan responden menunjukkan bahwa sesudah dilakukan kompres jahe sebanyak 2 kali dalam sehari terdapat penurunan intensitas nyeri. Hal ini dapat dilihat dari lembar observasi responden.
Kesimpulan : Hasil dari penelitian ini terdapat pengaruh kompres hangat jahe merah  dan serai terhadap penurunan nyeri sendi pada lansia.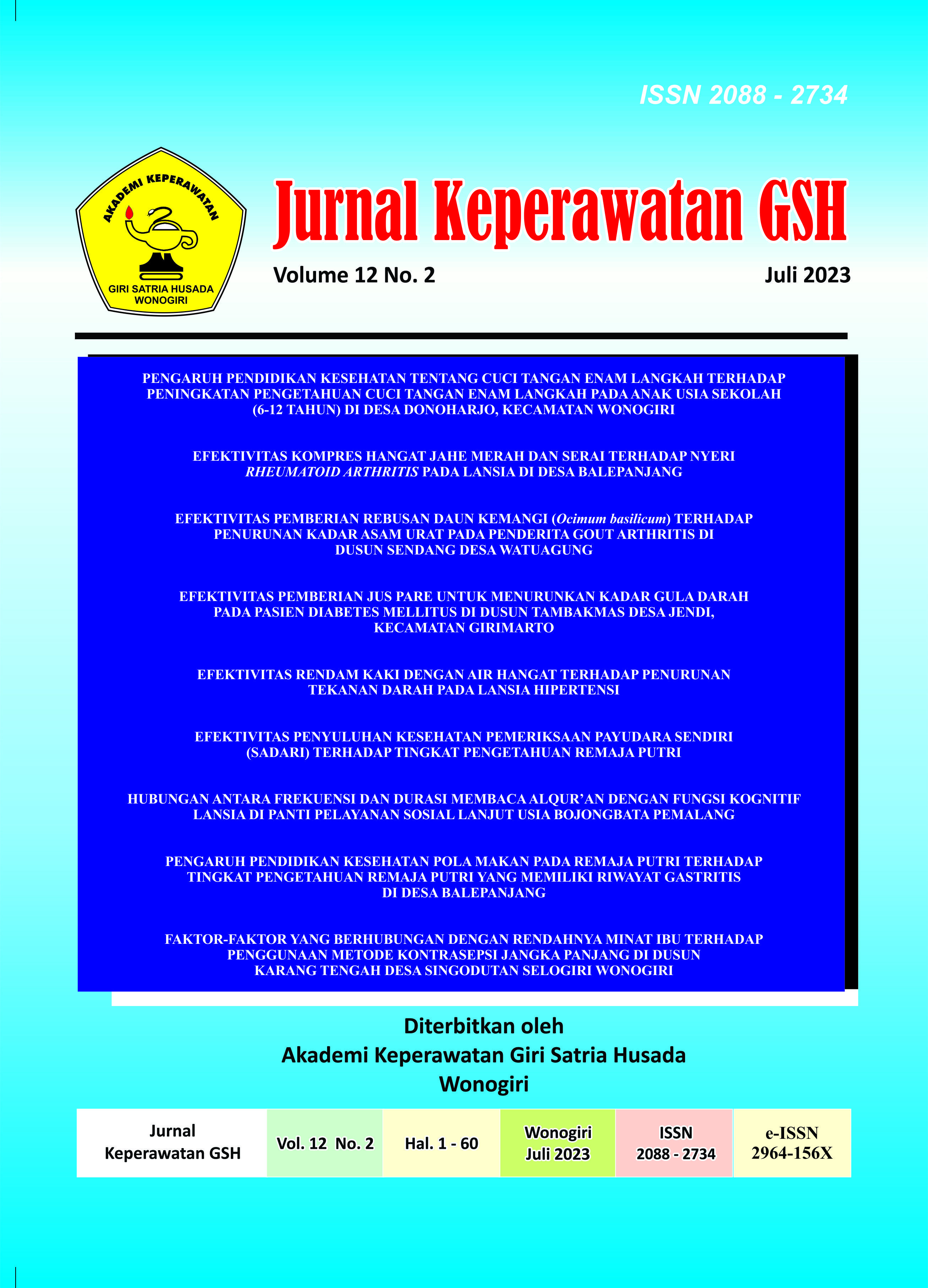 Downloads