STRATEGI KOPING MAHASISWA DALAM MENGHADAPI KEBOSANAN DISTANCE LEARNING SAAT PANDEMI COVID-19
Keywords:
Distance Learning, Bored, Coping Strategies
Abstract
During the COVID-19 pandemic, Teaching and Learning Activities (KBM) used an online system. The implementation of learning with the online system creates various obstacles for students. One of the obstacles faced by students is the problem of boredom and even prolonged stress if it is not balanced by proper management of coping strategies while experiencing boredom. This study aims to determine the coping strategies used by students to face boredom during distance learning. The research design in this study uses a qualitative approach. The subjects of this study were students of the Faculty of Health Sciences ITS PKU Muhammadiyah Surakarta. The sample taken by random sampling technique is 100 students. The results of this study indicate that most of the coping strategies used by students are Emotional Focused Coping (EFC), which is 73%.
Pada saat terjadi pandemic covid 19, Kegiatan Belajar Mengajar (KBM) menggunakan sistem dalam jaringan (daring). Pemberlakuan pembelajaran dengan sistem daring tersebut menimbulkan berbagai kendala bagi mahasiswa. Salah satu kendala yang dihadapi mahasiswa yaitu masalah kebosanan bahkan stres yang berkepanjangan apabila tidak diimbangi manajemen strategi koping yang tepat selama mengalami kebosanan tersebut. Penelitian ini bertujuan untuk mengetahui strategi koping yang digunakan mahasiswa menghadapi kebosanan selama distance learning. Rancangan penelitian dalam penelitian menggunakan pendekatan kualitatif. Subyek penelitian ini adalah mahasiswa Fakultas Ilmu Kesehatan ITS PKU Muhammadiyah Surakarta, yang diambil dengan teknik random sampling sebanyak 100 mahasiswa. Hasil penelitian ini menunjukkan bahwa sebagian besar strategi koping yang digunakan mahasiswa adalah Emotional Focused Coping (EFC) yaitu sebesar 73 %.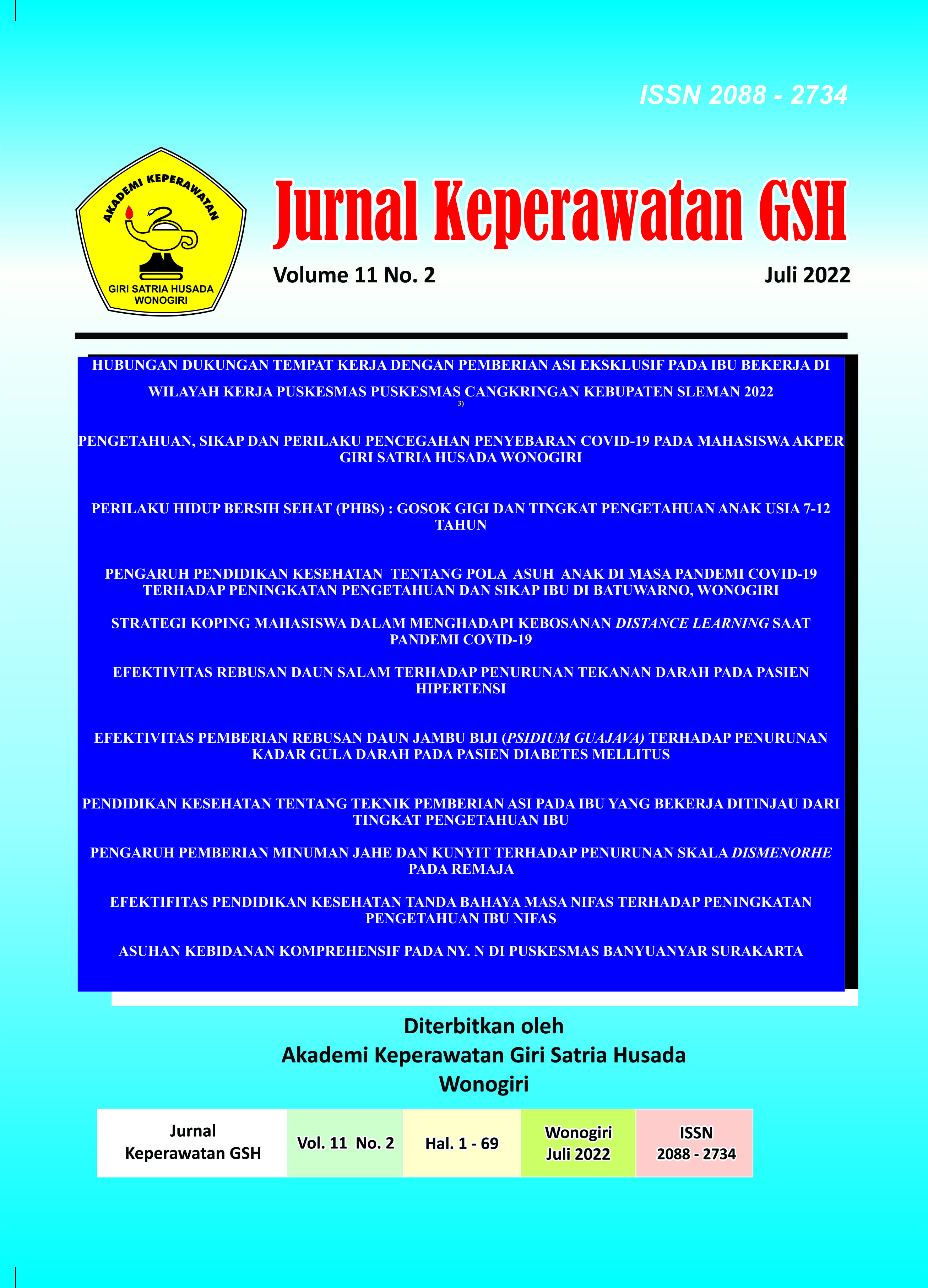 Downloads