EFEKTIVITAS PEMBERIAN REBUSAN DAUN JAMBU BIJI (PSIDIUM GUAJAVA) TERHADAP PENURUNAN KADAR GULA DARAH PADA PASIEN DIABETES MELLITUS
Abstract
Background: Diabetes mellitus is a condition where there is an increase in the level of sugar in the blood or commonly called hyperglicemia. The prevalence of DM in Indonesia occupies the fourth position and continues to increase every year. The prevalence of DM sufferers in Wonogiri reached 40.48%. In Indonesia, 31.7% suffer from DM. The use of pharmacological therapy using chemical drugs in the long term causes side effects for people with hyperglicemia, so they choose non-pharmacological therapies such as guava leaves Guava leaves It contains tannins and calcium wherein tannins inhibit the –glycosidase enzyme so that slows down the release of glucose in the blood. Guava leaves have several benefits, for traditional medicine in patients with hyperglicemia, namely by drinking boiled water of guava leaves. Methods: This research belongs to the type of quasi experiment research. The population in this study were all residents of Gemantar Village, Selogiri District, Wonogiri Regency who suffered from DM. There were 30 samples taken by the researcher using purposive sampling technique. Results: The result is that there is a very significant effect between boiled water of guava leaves and a decrease in blood glucose levels in people with diabetes mellitus. Conclusion: The results of the analysis carried out from all respondents obtained data that giving boiled water of guava leaves is effective in helping to reduce blood glucose in patients with hyperglicemia.
Latar belakang: Diabetes melitus adalah suatu keadaan dimana terjadi peningkatan kadar gula dalam darah atau biasa disebut dengan hiperglikemia. Prevalensi DM di Indonesia menempati posisi keempat dan terus meningkat setiap tahunnya. Prevalensi penderita DM di Wonogiri mencapai 40,48%. Di Indonesia, 31,7% menderita DM. Penggunaan terapi farmakologi menggunakan obat kimia dalam jangka panjang menimbulkan efek samping bagi penderita hiperglikemia, sehingga memilih terapi non farmakologi seperti daun jambu biji.
Daun jambu biji Mengandung tanin dan kalsium dimana tanin menghambat enzim -glikosidase sehingga memperlambat pelepasan glukosa dalam darah. Daun jambu biji memiliki beberapa manfaat, untuk pengobatan tradisional pada penderita hiperglikemia yaitu dengan meminum air rebusan daun jambu biji. Metode: Penelitian ini termasuk jenis penelitian quasi experiment. Populasi dalam penelitian ini adalah 60 orang yang menderita DM di desa gemantar. Adapun ampel yang akan diambil oleh peneliti berjumlah 30 orang menggunakan teknik purposive sampling. Hasil: Hasilnya, yaitu ada pengaruh yang sangat signifikan antara air rebusan daun jambu biji dan penurunan kadar glukosa darah pada penderita diabetes melitus. Kesimpulan: Hasil analisa yang dilakukanan dari keseluruhan responden didapatkan data bahwa pemberian rebusan daun jambu biji efektif untuk membantu penuruan gula darah pada penderita hiperglikemia.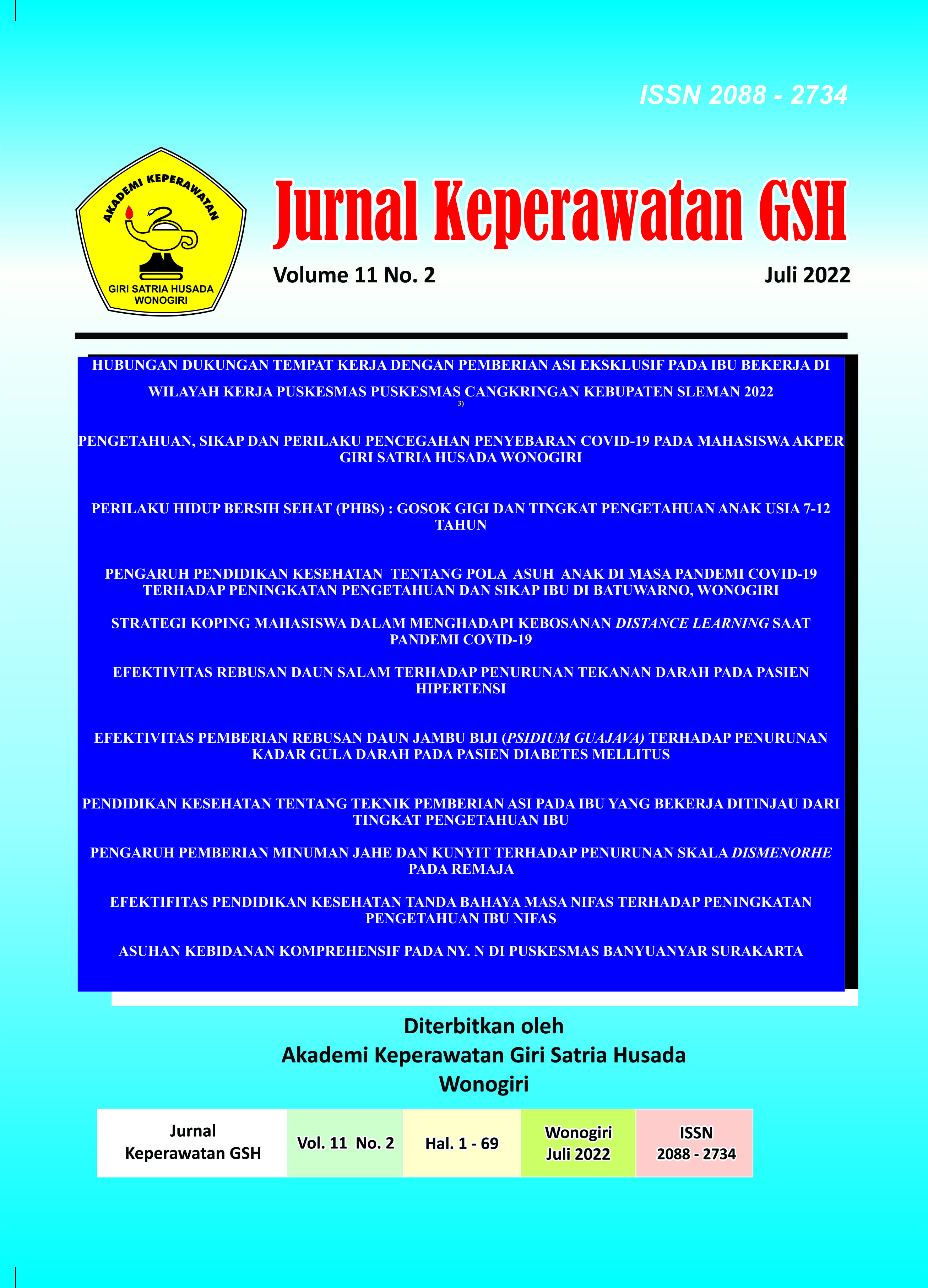 Downloads