PENGARUH PEMBERIAN MINUMAN JAHE DAN KUNYIT TERHADAP PENURUNAN SKALA DISMENORHE PADA REMAJA
Keywords:
Jahe; Kunyit; Desminorhe
Abstract
Background: Menstruation is the process of removing the lining of the uterus (inner lining of the endometrium) accompanied by repeated bleeding every month, except during pregnancy. Menstruation usually starts in children aged 9-12 years. Primary dysmenorrhea usually occurs in a woman aged 2-3 years after menarche and reaches a maximum at the age of 15-25 years. Ginger and turmeric drinks contain active compounds gingerol and curcumin which are thought to have analgesic, antipyretic and anti-inflammatory functions. Objective: to determine the effect of ginger and turmeric drinks on the dysmenorrhea pain scale in adolescents. Research methods: this study uses a quasi-experimental type of research (Quasy Experimental) with a pretest-posttest design approach. The sample of this research is adolescent Madrasah Tsanawiyah Negeri Sukoharjo, with a purposive sampling technique obtained by a number of 8 respondents. The research instrument used ginger and turmeric drinks, observation sheets and measuring media of dysmenorrhea pain scale. Data analysis used Wilcoxon signed rank test with a significance of 5%. Results: The test results used a significant value (p) of 0.008 so that the p value <0.05, which means that there is an effect of giving the ingredients of ginger and turmeric can reduce pain in young women desminore. Conclusion: ginger and turmeric drinks have an influence on the dysmenorrhea pain scale in adolescents.
Latar belakang: Menstruasi adalah proses pelepasan dinding Rahim (lapisan dalam endometrium) yang disertai dengan pendarahan yang terjadi secara berulang setiap bulan, kecuali pada saat terjadi kehamilan. Menstruasi biasanya diawali pada anak usia 9-12 tahun. Dismenorhe primer biasanya terjadi pada seorang wanita berusia 2-3 tahun setelah menarche dan mencapai maksimal pada usia 15-25 tahun. Minuman jahe dan kunyit mengandung senyawa aktif gingerol dan kurkumin yang diduga memiliki fungsi sebagai analgetik, antipiretik, dan antiinflamasi. Tujuan: mengetahui adanya pengaruh pemberian minuman jahe dan kunyit terhadap skala nyeri dismenore pada remaja. Metode penelitian: penelitian ini menggunakan jenis penelitian eksperimental semu (Quasy Eksperimental) dengan pendekatan pretest-posttest design. Sampel penelitian merupakan remaja Madrasah Tsanawiyah Negeri Sukoharjo, dengan teknik sampling purposive sampling tersebut didapat sejumlah 8 responden. Instrument penelitian menggunakan minuman jahe dan kunyit, lembar observasi dan media ukur skala nyeri dismenore. Analisa data menggunakan uji Wilcoxon signed rank test dengan signifikansi 5%. Hasil: hasil uji menggunakan nilai signifikan (p) sebesar 0,008 sehingga nilai p < 0,05 yang berarti bahwa terdapat pengaruh pemberian ramuan jahe dan kunyit mampu menurunkan nyeri desminore pada remaja putri. Kesimpulan: minuman jahe dan kunyit memiliki pengaruh terhadap skala nyeri dismenore pada remaja.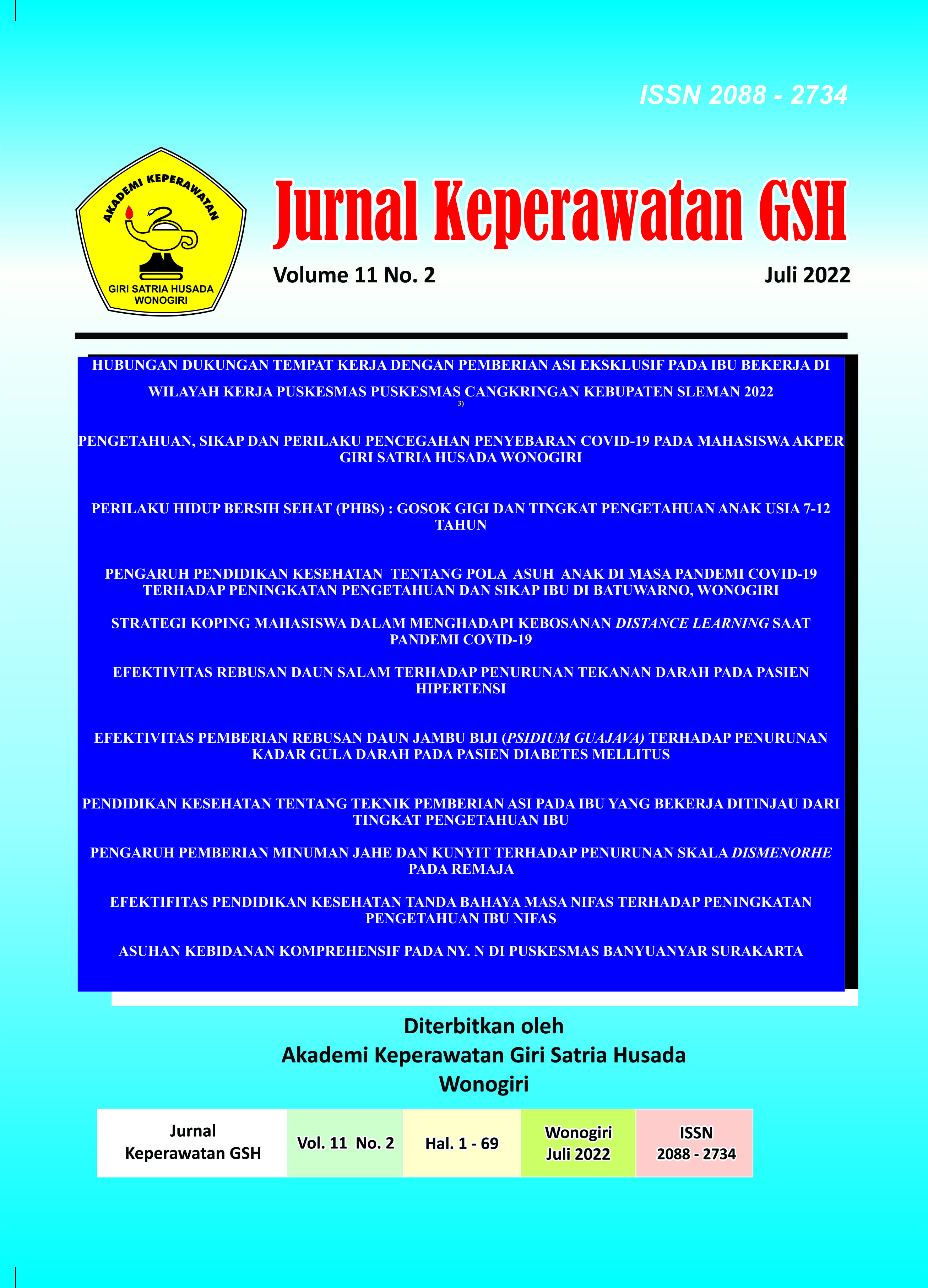 Downloads