HUBUNGAN PENGETAHUAN TENTANG TANGGAP DARURAT DENGAN TINGKAT KESIAPSIAGAAN BENCANA ERUPSI MERAPI DI DESA WONODOYO
KNOWLEDGE RELATIONSHIP ON EMERGENCY RESPONSE WITH ERUPTION PREPAREDNESS OF MERAPI IN WONODOYO VILLAGE
Keywords:
Pengetahuan, Tanggap Darurat, Kesiapsiagaan, Knowledge, emergency response, preparedness
Abstract
Latar Belakang : Secara geologis, Indonesia terletak pada pertemuan tiga lempeng litosfer dunia yaitu lempeng Euresia atau Asia tenggara, pasifik dan Indonesia-Australia.Indonesia memiliki catatan kejadian bencana yang cukup tinggi. Kejadian bencana di Indonesia disebabkan oleh letak geografis Indonesia terletak diantara  lempeng aktif samudera yang menyebabkan berbagai wilayah Indonesia rawan bencana letusan gunung api, gempa dan tsunami. Tujuan : Mengetahui hubungan pengetahuan tentang tanggap darurat dengan tingkat kesiapsiagaan mengahadapi bencana erupsi merapi pada masyarakat Wonodoyo. Metode : Penelitian ini menggunakan penelitian kuantitatif non eksperimental dengan metode survei analitik melalui pendekatan cross sectional dengan jumlah sampel 88 orang dengan menggunakan teknik purposiv sampling. Pengukuran pengetahuan tanggap darurat dan kesiapsiaggan bencana menggunakan kuesioner. Pengujian hipotesis menggunakan uji Kendall Tau. Analisis data menggunakan program Statistic Package for the Social Science (SPSS). Hasil : Nilai koefisensi korelasi sebesar 0,224 dan nilai signifikansi (p-value) sebesar 0,009. Simpulan ada hubungan yang signifikansi antara pengetahuan tanggap darurat dengan tingkat kesiapsiagaan bencana erupsi merapi di desa Wonodoyo. Background: Geologically, Indonesia is located at the junction of the world's three lithosphere plates, namely the Euresia plate or sountheast Asia, the Pacific and Indonesia-Australia. Indonesia has a record of high disaster incidence.
Disaster events in Indonesia are caused by the geographic location of Indonesia which lies between the active plates of the ocean which make various parts of Indonesia prone to volcanic eruptions, earthquakes and tsunamis. Purpose: knowing the relationship between knowledge about emergency response and the level of preparedness to face the eruption disaster of Merapi in Wonodoyo people. Methods : this study used quantitative non-experimental research with analytical survey method through cross sectional approach with a sample size of 88 people using purposive sampling technique. Measurement of knowledge of emergency response and disaster preparedness using a questionnaire. Hypothesis testing usus the Kendall Tau test. Data analysis used the Statistical Package for the Social Science (SPSS) program. Result :  The correlation coefficient value is 0.224 and the significance value (p-value) is 0.009. in conclusion, there is a significant relationship between the knowledge of emergency response and the level of disaster preparedness for the eruption of Merapi in Wonodoyo village.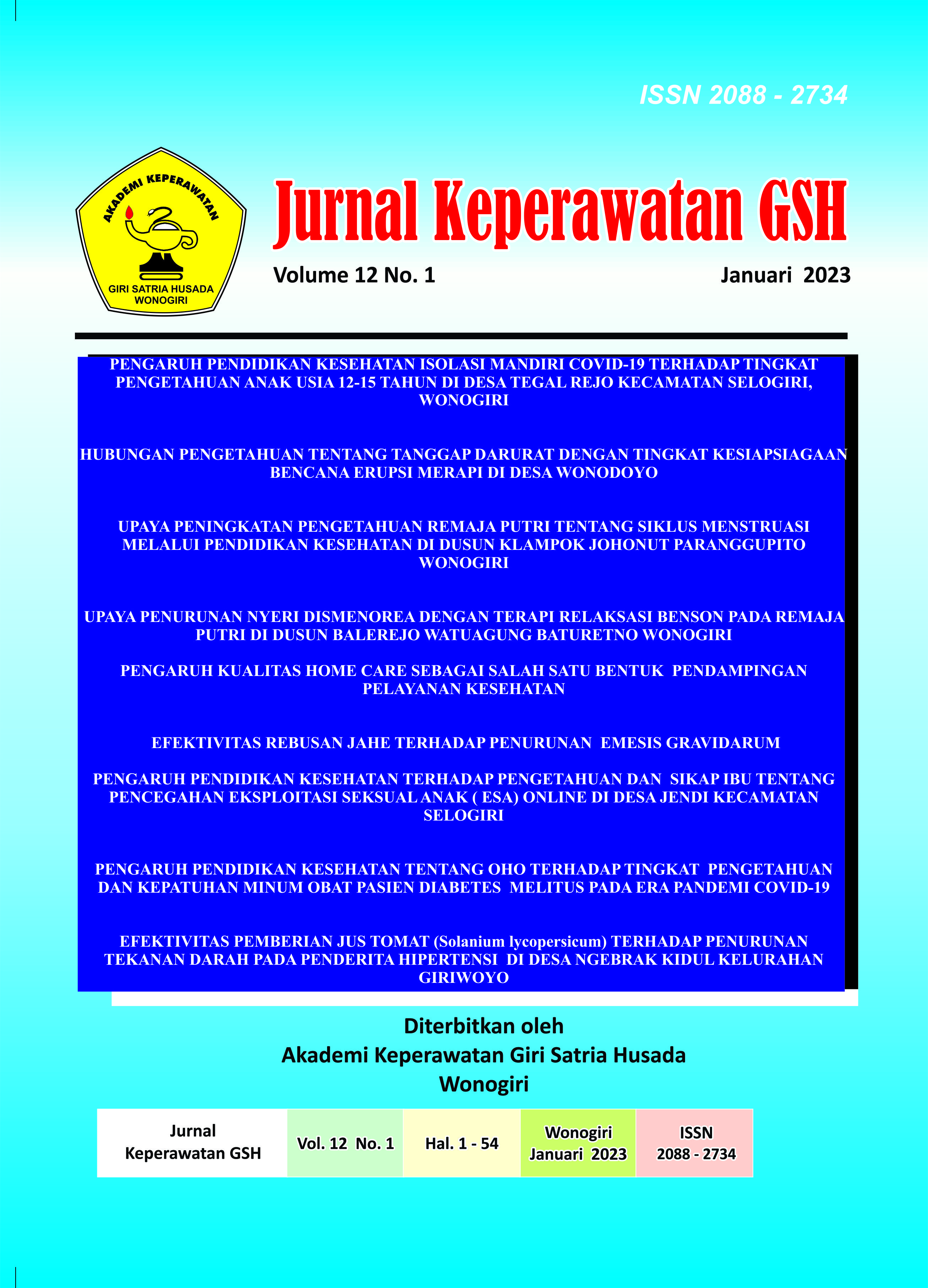 Downloads