EFEKTIVITAS REBUSAN JAHE TERHADAP PENURUNAN EMESIS GRAVIDARUM
Keywords:
ginger stew, pregnant women, emesis gravidarum, rebusan jahe, ibu hamil, emesis gravidarum
Abstract
ABSTRACT
Nausea and vomiting that occurs in pregnancy is caused by an increase in the levels of the hormones  estrogen and progesterone produced by Human Chorionic Gonadotropin (HCG) in the placenta. The  occurrence of continuous vomiting results in a pregnant woman's body getting paler, weaker, a drastic  decrease in the frequency of urination, causing a decrease in body fluids and blood thickening  (hemoconcentration) which blocks blood circulation so that it can cause tissue damage that endangers the  health of pregnant women and fetal development . The aim of the study was to determine the effectiveness of  giving ginger decoction to reduce nausea and vomiting in pregnant women. This type of research is  descriptive with a case study research approach (case study). The population in this study were pregnant  women in the Ngadirojo Health Center area. The research sample was first trimester pregnant women in  the Ngadirojo Health Center area. This research was conducted through observation and interviews. Test  the validity of the data used by taking new data (here and now) by using an assessment instrument that is in  accordance with the Standard Operating Procedure (SOP). The results of the study: the frequency of nausea and vomiting before being given a ginger drink was an average of 5-7 times per day. The frequency  of nausea and vomiting after being given a ginger drink has decreased to 2-3 times per day. Giving ginger  decoction to pregnant women is effective in reducing / reducing emesis gravidarum.
ABSTRAK
Mual muntah yang terjadi pada kehamilan disebabkan karena terjadi peningkatan kadar  hormon estrogen dan progesteron yang diproduksi oleh Human Chorionic Gonadotropin (HCG)  didalam plasenta. Terjadinya muntah secara terus menerus berakibat pada tubuh perempuan hamil  semakin pucat, lemah, penurunan frekuensi buang air kecil secara drastis sehingga menyebabkan  berkurangnya cairan tubuh dan darah mengental (hemokonsentrasi) yang menghambat peredaran  darah sehingga dapat menyebabkan kerusakan jaringan yang membahayakan kesehatan perempuan hamil dan perkembangan janin. Tujuan penelitian untuk mengetahui efektifitas pemberian rebusan jahe untuk menurunkan mual dan muntah pada ibu hamil. Jenis penelitian ini adalah deskriptif dengan pendekatan case study research (studi kasus). Populasi dalam penelitian ini adalah ibu hamil di  wilayah Puskesmas Ngadirojo. Sampel penelitian adalah ibu hamil Trimester I di wilayah Puskesmas Ngadirojo. Penelitian ini dilakukan melalui observasi dan wawancara. Uji keabsahan data yang digunakan dengan mengambil data baru (here and now) dengan mengunakan instrument pengkajian yang sesuai Standar opreting procedur ( SOP). Hasil penelitian : frekuensi mual dan muntah sebelum diberikan minuman rebusan jahe rata-rata 5-7 kali per hari. Frekuensi mual dan muntah setelah diberikan minuman rebusan jahe mengalami penurunan menjadi 2-3 kali per hari. Pemberian minuman rebusan jahe pada ibu hamil efektif untuk menurunkan / mengurangi emesis gravidarum.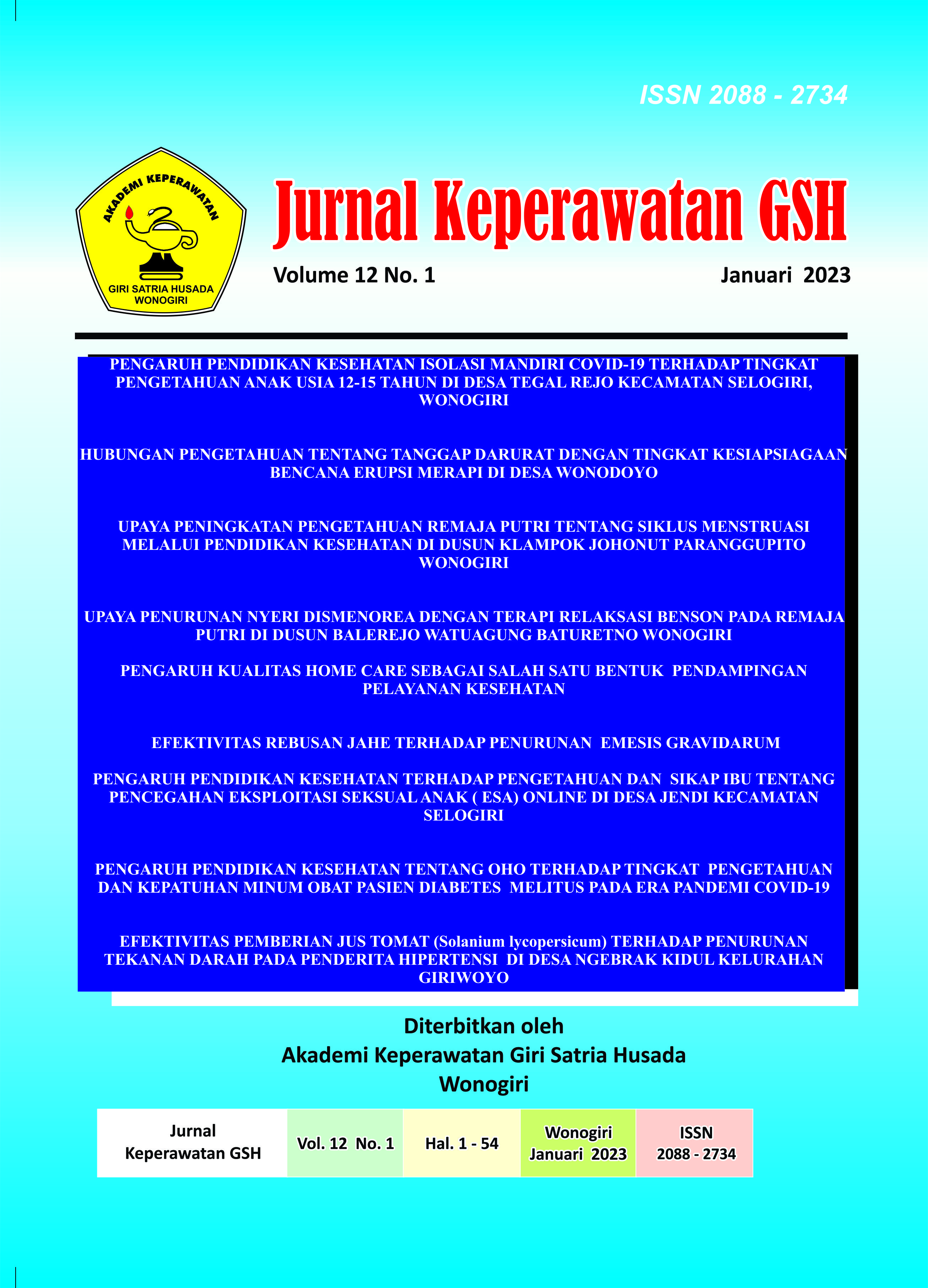 Downloads