EFEKTIVITAS PEMBERIAN REBUSAN DAUN KEMANGI (Ocimum basilicum) TERHADAP PENURUNAN KADAR ASAM URAT PADA PENDERITA GOUT ARTHRITIS DI DUSUN SENDANG DESA WATUAGUNG
Keywords:
Uric acid, Basil leaves, Gout sufferers, Asam urat, Daun kemangi, Penderita asam urat
Abstract
ABSTRACT
Background: Gout or what is commonly called gout is a joint disease caused by high uric acid in the blood. Increased uric acid levels occur due to: excess uric acid production. Basil leaves can inhibits the formation of uric acid. These compounds can inhibit the formation of uric acid by inhibiting the activity of the xanthine oxidase enzyme so that urate crystals do not accumulate. The aim of the study was to determine the effectiveness of decoction of basil leaves on reducing uric acid levels in patients with gout arthritis in Sendang Hamlet, Watuagung Village.
Research method: This type of research is descriptive qualitative. The population in this study were gout sufferers in the Sendang Hamlet area. The research sample was 20 people. The research instruments were SOP for cooking basil leaves and measuring uric acid levels, observation sheets, and the Easy Touch GCU Meter Device.
Research results: The results showed that the average uric acid level in 20 respondents before giving basil leaf decoction was 8,59 mg/dL. After giving basil leaves decoction, the average uric acid level of 20 respondents was 6,525 mg/dL.
Conclusion: Based on the analysis of the results of the study, it was concluded that basil leaves are effective as a non-pharmacological therapy to reduce uric acid levels in patients with Gout Arthritis.
ABSTRAK
Latar belakang : Penyakit asam urat atau yang biasa disebut penyakit gout adalah penyakit sendi yang disebabkan oleh tingginya asam urat di dalam darah. Peningkatan kadar asam urat terjadi akibat : produksi asam urat berlebih. Daun kemangi dapat menghambat terbentuknya asam urat. Tujuan penelitian untuk mengetahui efektivitas rebusan daun kemangi Terhadap Penurunan Kadar Asam Urat Pada Penderita Gout Athritis Di Dusun Sendang Desa Watuagung.
Metode penelitian : Jenis penelitian ini deskriptif kualitatif. Populasi dalam penelitian ini adalah penderita asam urat di wilayah Dusun Sendang. Sampel penelitian sebanyak 20 orang. Instrumen penelitian ini SOP rebusan daun kemangi dan pengukuran kadar asam urat, lembar observasi, dan Easy Touch GCU Meter Device.
Hasil penelitian : Hasil penelitian didapatkan rata-rata kadar asam urat pada 20 responden sebelum pemberian rebusan daun kemangi adalah 8,59 mg/dL. Setelah dilakukan pemberian rebusan daun kemangi rata-rata kadar asam urat dari 20 responden adalah 6,525 mg/dL.
Kesimpulan : Berdasarkan analisis hasil penelitian maka diambil kesimpulan bahwa daun kemangi efektif sebagai terapi non farmakologi untuk menurunkan kadar asam urat pada penderita Gout Arthritis.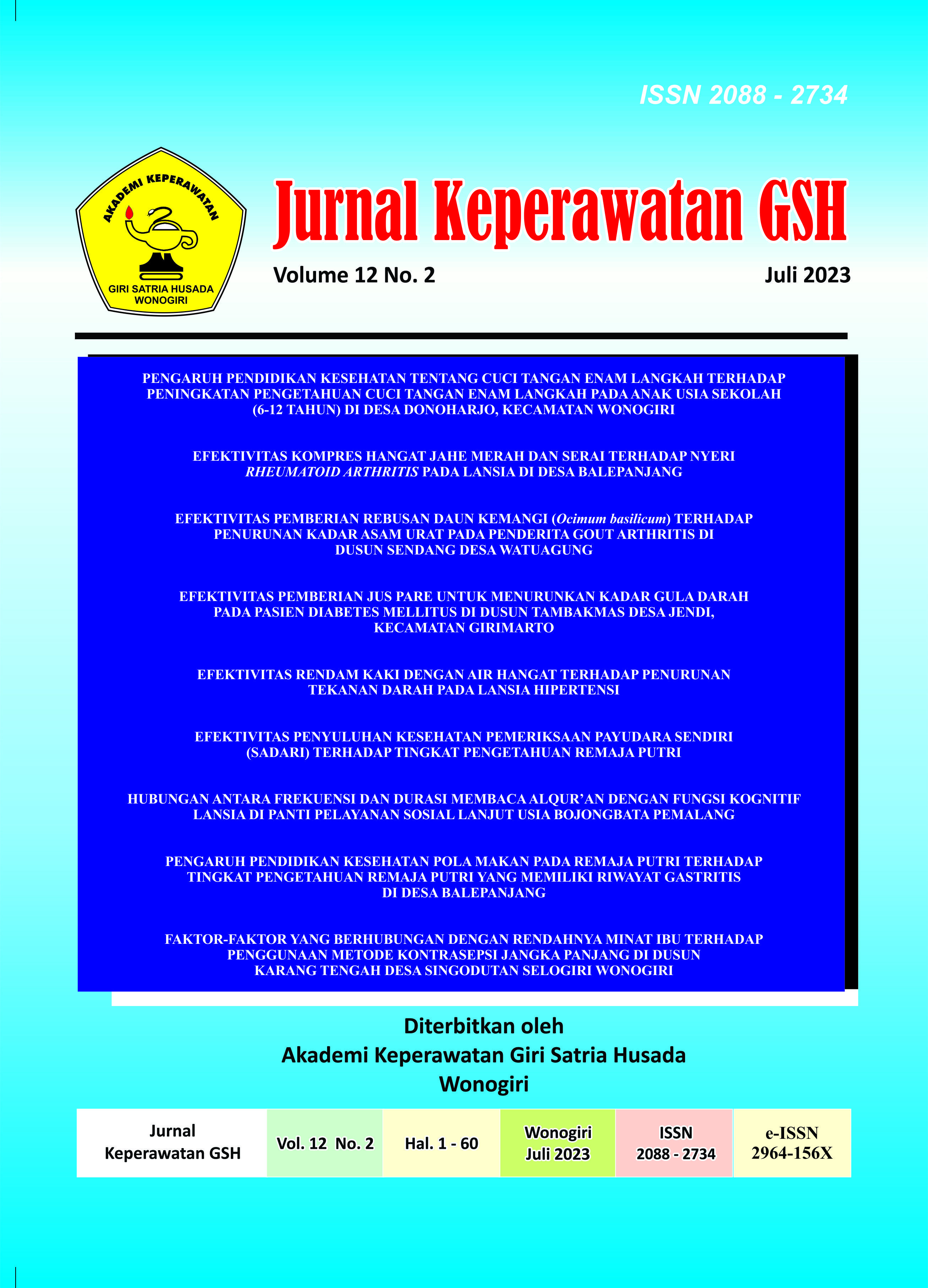 Downloads