EFEKTIVITAS PENYULUHAN KESEHATAN PEMERIKSAAN PAYUDARA SENDIRI (SADARI) TERHADAP TINGKAT PENGETAHUAN REMAJA PUTRI
Keywords:
Breast Cancer, Health Education, Young Women, BSE, Kanker Payudara, Penyuluhan Kesehatan, Remaja Putri, SADARI
Abstract
ABSTRACT
Background: Breast cancer is a pathological condition of abnormally changing and growing breast cells. The delay in cancer sufferers in carrying out early detection results in breast cancer being found at an advanced stage. Factors that cause delays in cancer sufferers in early detection are the level of knowledge and behavior of early detection.
Objective: This study aims to determine the effectiveness of health counseling on breast self-examination (BSE) for young women.
Method: Descriptive case study which is one of the strategies in qualitative research, with a case study research approach. The population in this study were young women from Bakalan Village, Purwantoro District, Wonogiri Regency. A sample of 5 respondents with questionnaires, leaflets and interviews as instruments.
Result: the results of the research that has been carried out from all respondents show that after carrying out health education on self-breast examination (BSE) there is an increase in the knowledge of respondents, this can be seen from the results of the pre-test, namely 8-10 (30-50%) questions correct out of 15 questionnaire questions, as well as post-test results of 11-14 (60-90%) correct questions out of 15 questionnaire questions and can be concluded into the high score category. Conclusion: The results of the analysis carried out on all respondents obtained data that after health counseling there was an increase in knowledge about breast self-examination (BSE).
ABSTRAK
Latar belakang : Kanker payudara merupakan keadaan patologis dari sel payudara yang berubah dan tumbuh secara abnormal. Faktor-faktor yang menyebabkan keterlambatan penderita kanker dalam deteksi dini adalah tingkat pengetahuan, dan perilaku deteksi dini.
Tujuan : penelitian ini bertujuan untuk mengetahui efektifitas penyuluhan kesehatan pemeriksaan payudara sendiri (SADARI) pada remaja putri.
Metode : Studi kasus deskriptif yang merupakan salah satu strategi dalam penelitian kualitatif , dengan pendekatan case study research ( studi kasus) . Populasi dalam penelitian ini adalah remaja putri Desa Bakalan Kecamatan Purwantoro Kabupaten Wonogiri. Sampel sebanyak 5 Responden dengan instrument kuesioner, leaflet, dan wawancara.
Hasil : hasil penelitian yang telah dilakukan dari keseluruhan responden menunjukan bahwa setelah dilakukan penyuluhan kesehatan pemeriksaan payudara sendiri (SADARI) terdapat peningkatan pengetahuann responden, hal ini dapat dilihat dari hasil pre-test yaitu 8-10 (30-50%) pertanyaan benar dari 15 pertanyaan kuesioner, serta hasil post-test 11-14 (60-90%) pertanyaan benar dari 15 pertanyaan kuesioner dan dapat disimpulkan kedalam kategori skor tinggi.
Kesimpulan : Hasil analisa yang dilakukan dari keseluruhan responden didapatkan data bahwa setelah dilakukan penyluhan kesehatan terdapat peningkatan pengetahuan tentang pemeriksaan payudara sendiri (SADARI).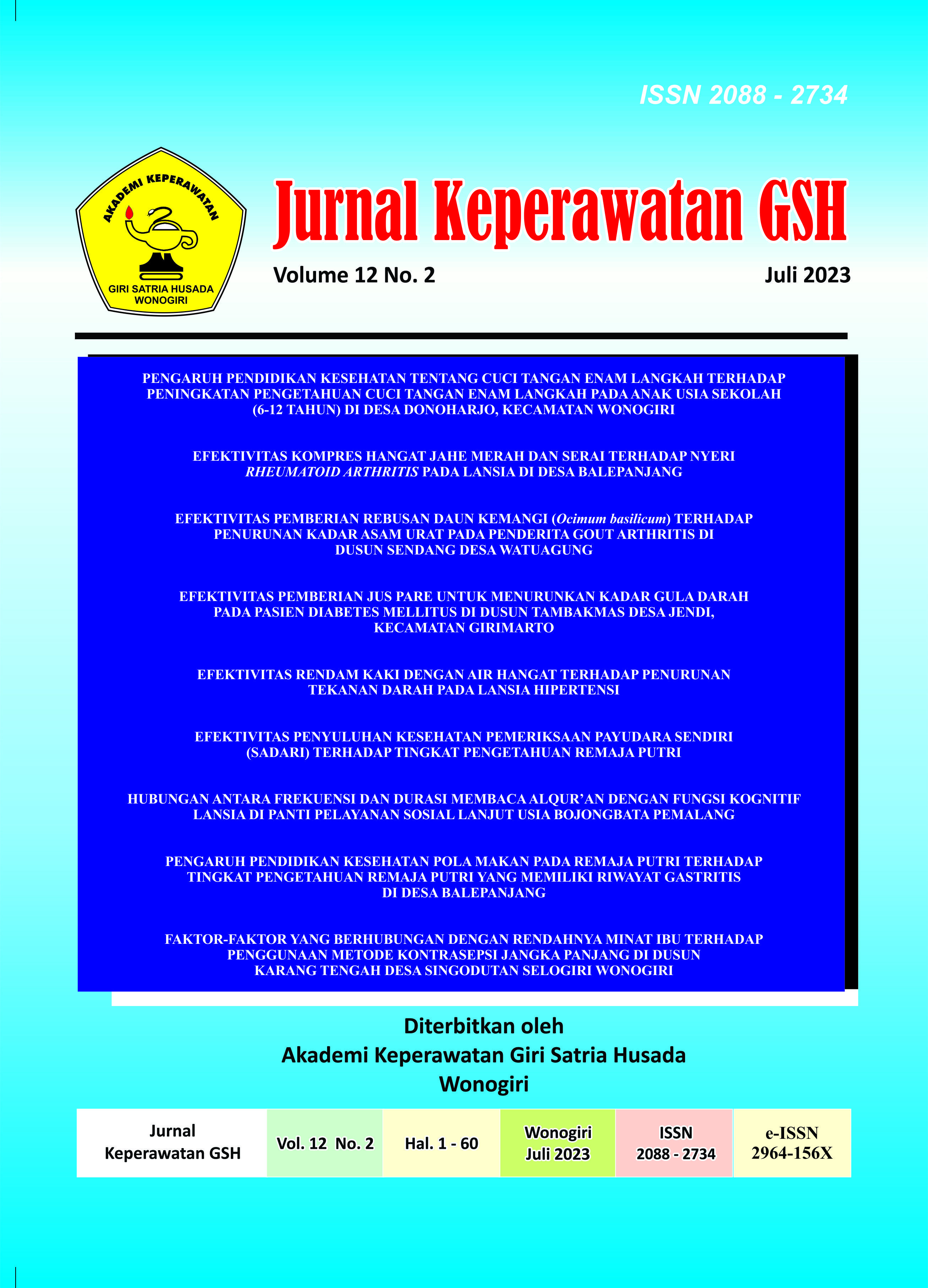 Downloads